Die "Rahmentrainingskonzeption des Strecken-Segelfluges" ist in jedem Segelflugzeug/MISCELLANEOUS kostenlos zu lesen!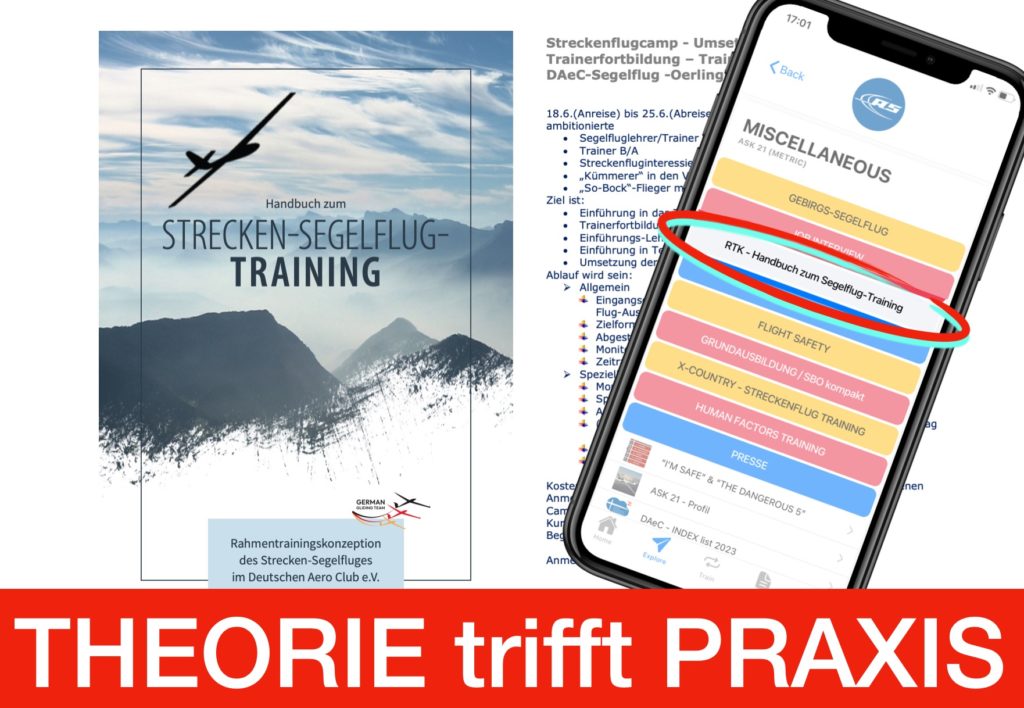 Nutze heute (28.04.2023) deine letzte Chance, dir
 ganze 20 % Rabatt
 auf deine Dienstplanauswertung mit easy dutyplan zu sichern.
Du kannst ganz einfach im kostenlosen Pre-Check prüfen, wie viel Ersparnis auf dich wartet. Selbstverständlich kannst du deine Auswertung nach dem Kauf noch so oft bearbeiten, wie du möchtest.

Deine Dienstplanauswertung kannst du auch direkt aus unserer Pilot Logbook & Flight Crew App OffBlock erstellen! Einfach Dienstpläne importieren und über Menü > Dienstplanauswertung loslegen. (Importmöglichkeit von Dienstplansystem abhängig)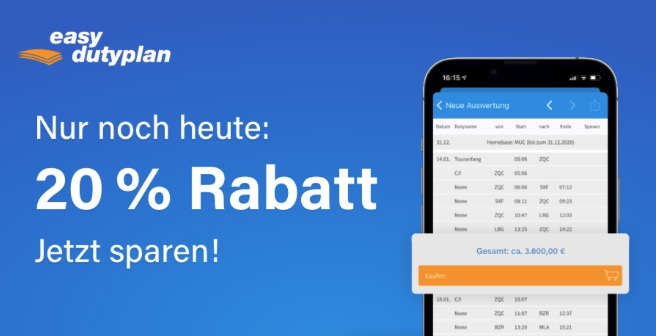 Für Eurowings Discover können aktuell in easy dutyplan noch keine Dienstpläne importiert werden. Hier könnt ihr die Auswertung über einen kleinen Umweg trotzdem erstellen: ladet euch einfach die OffBlock App auf eurem iOS-Gerät herunter. Erstellt euch einen Account (falls ihr bereits einen easy dutyplan Account besitzt, achtet darauf, dass ihr die gleiche Mailadresse verwendet, damit die Accounts verknüpft sind), anschließend könnt ihr im Bereich "Import" die Dienstpläne importieren und dann über den Menüpunkt "Dienstplanauswertung" nach easy dutyplan exportieren. Dabei fallen für euch keine weiteren Zusatzkosten an.
airstore 5% Discount-Code:
easymemoryitem5
Traveling is inspiration! Traveling is life! Traveling is passion! 
As a Pilot I travel breathtaking places for more then half of a decade now. Places that couldn't more different from each other, but have one thing in common. Spectecular Cafés – my second passion!
In Cafés all over the world I met the most interesting people and made great friendships. It was to be perfectly obvious to connect these two passions – "Aviation" & "Caffè" to one – Aviation Caffè.
Around the globe I'm searching for the highest-quality, most tastefully and finest beans. Perfectly roasted, the scent of this freshly brewed coffee lets me go back to these wonderful places, which enriched my life so much, at any point of time.
Follow me on my travels with your next cup of coffee not just in the cockpit instagram.com/pilotjanlucas but also let us disembark and visit the the cafés from around the world. Places, where nice people are having a great time. Where everyday life is accompanied by the pleasure of the taste. Close your eyes and breath the scent of Aviation Caffè – TASTE THE WORLD.
You can get your Aviation Caffè with a personal message to me on the official Instagram-Account instagram.com/aviation.caffe I'm happy to hear from you and to answer all of your questions personally.
Your friend